Summary
Two-term Republican Rob Portman was re-elected in 2016 with 58% of the vote. On January 25, 2021, he announced that he would not be running for re-election.
Venture capitalist and author J. D. Vance was nominated in a crowded and competitive Republican primary, defeating USMCR veteran and former Ohio State Treasurer Josh Mandel, state senator Matt Dolan, investment banker Mike Gibbons, and former Ohio Republican Party chair Jane Timken, among others. Vance was endorsed by former President Donald Trump in the primary.
U.S. Representative and 2020 presidential candidate Tim Ryan is the Democratic nominee.
Source: Wikipedia
News
Insights and Observations
As per the latest polls, Tim Ryan has an edge over his opponent JD Vance by just 3%. In Ohio, 15% of voters remain undecided.
According to the latest polls, Tim Ryan has huge support from black voters, women, and young voters.
As per the data, 50% of women in Ohio support Tim Ryan and only 31% of women support Vance.
Meanwhile, JD Vance has maintained his support from white voters and mid-age people.
Around 45% of white voters support Vance and 38% support Ryan.
Democrats are grappling with a major strategic decision: how aggressively to pursue the open Senate seat in Ohio.
On one hand, party leaders and strategists say there's reason to be hopeful. Rep. Tim Ryan (D-Ohio), their nominee to succeed retiring Sen. Rob Portman (R-Ohio), is a prolific fundraiser with an adept ability to appeal to the state's blue-collar voters.
Recent polling shows him virtually deadlocked with his Republican rival J.D. Vance, the author and venture capitalist who carries the endorsement of former President Trump.
But Democrats are also acutely aware of Ohio's rightward shift in recent years. Trump carried the state twice, in 2016 and 2020, and aside from former President Obama and Sen. Sherrod Brown, no Democrat has won statewide in Ohio since 2006.
About
Predictions
Web
Tim Ryan
Current Position: US Representative for OH 13th District since 2013
Affiliation: Democrat
Candidate: 2022 US Senator
Former Position(s): State Senator from 2001 – 2002
Other Positions:  
Chair, Legislative Branch Subcommittee – House Appropriations Committee
Vice Chair, Defense Subcommittee
Featured Quote: 
We have people scaling the Capitol, hitting Cap. Police officers with lead pipes, & we can't get bipartisanship. If we're going to take on China, rebuild the country, reverse climate change, we need two political parties living in reality & the Republican Party ain't one of them. Speech
For more information, go to this post.
J.D. Vance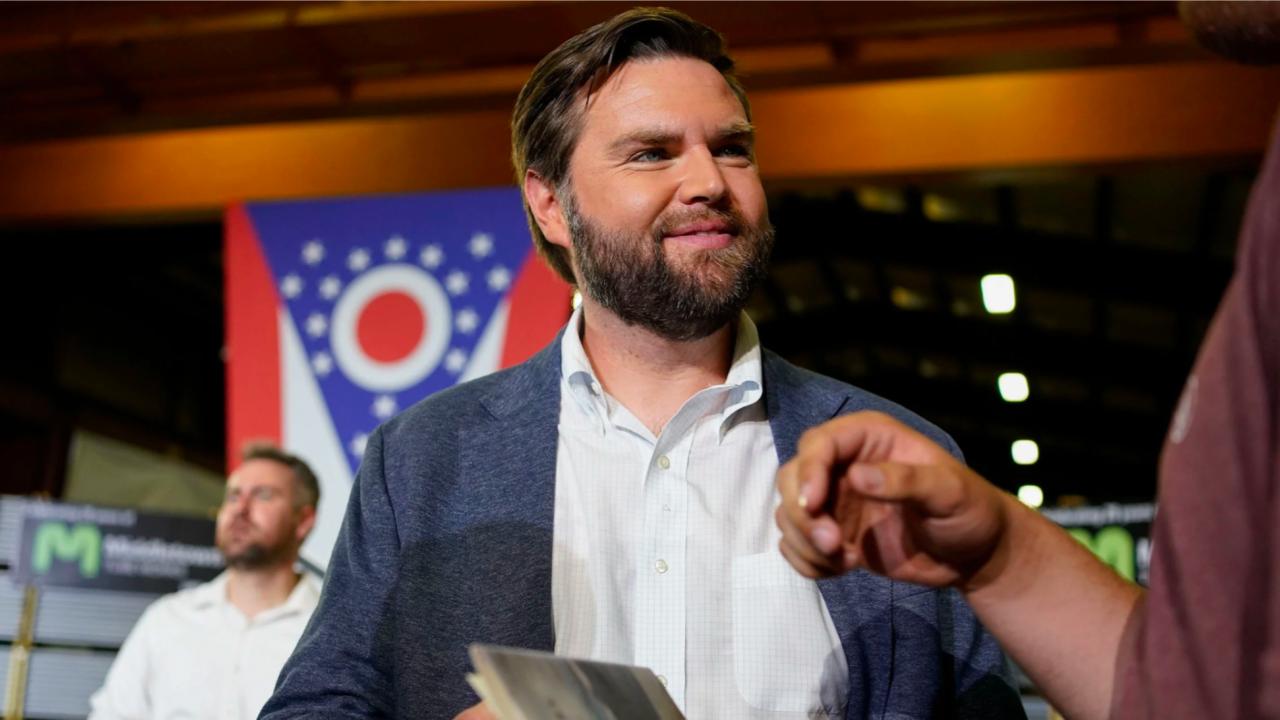 Current Position: Venture Capital since 2017
Affiliation: Republican
Candidate: 2022 US Senator
James David Vance (born August 2, 1984) is an American conservative commentator, politician, venture capitalist, and author. He is best known for his memoir Hillbilly Elegy, which attracted significant press attention during the 2016 election.
Vance is the Republican nominee in the 2022 United States Senate election in Ohio to succeed retiring Republican U.S. Senator Rob Portman. He will face Democratic nominee Tim Ryan in the November 2022 general election.
For more information, go to this post.
Wikipedia
The 2022 United States Senate election in Ohio will be held on November 8, 2022, to elect a member of the United States Senate to represent the State of Ohio. Republican author J. D. Vance and Democratic representative Tim Ryan will seek to succeed incumbent Republican senator Rob Portman, who is not seeking re-election after two terms.[1]
Primary elections took place on May 3. Ryan won the Democratic nomination in a field of three candidates with 70% of the vote. Vance, who was endorsed by former president Donald Trump, won the Republican nomination in a field of seven candidates with 32% of the vote.
Republican primary
As a result of Portman's retirement, this primary was expected to be one of the most competitive in the nation. Due to his high approval ratings within the Republican Party, most of the candidates sought the endorsement of former President Donald Trump. Former State Treasurer Josh Mandel, who had been the Republican nominee for Senate in 2012, led most polls until late January, when businessman Mike Gibbons surged after spending millions in TV ads.[2] At a forum in March 2022, Gibbons and Mandel got into a forceful argument over Mandel's private sector experience. The debate moderator interfered after it was feared the two candidates would come to blows.[3] On April 9, Gibbons said that middle class Americans don't pay enough in income taxes, which immediately led to his poll numbers plummeting, and on April 15, Trump endorsed writer and commentator J. D. Vance, who had criticized him in the past.[4][5]
Vance had been trailing in the polls, but as a result of Trump's support surged to become the race's frontrunner for the first time and led in most polls up to election day. Meanwhile, State Senator Matt Dolan, who disavowed Trump's claims of voter fraud in the 2020 United States presidential election, saw a late surge after buying ad time.[6] Vance won with 32% of the vote with Mandel in second and Dolan in a close third. The primary was considered by many as a test of Trump's influence over the Republican Party as he won Ohio by 8 points in 2020.[7] The primary was also the most expensive in the state's history, with the candidates spending a combined $66 million throughout the campaign.[8]
Candidates
Nominee
Eliminated in primary
Withdrawn
John Berman, electronic hardware design, test engineer and candidate for U.S. Senate (Minnesota and Kansas) in 2020[17]
Disqualified
Declined
Endorsements
Polling
Graphical summary
Source of poll
aggregation
Dates
administered
Dates
updated
Matt
Dolan
Mike
Gibbons
Josh
Mandel
Jane
Timken
J. D.
Vance
Other
[a]
Margin
Real Clear Politics
April 28 – May 1, 2022
May 2, 2022
21.5%
15.0%
22.5%
7.0%
26.0%
8.0%
Vance +3.5
Poll source
Date(s)
administered
Sample
size[b]
Margin
of error
Matt
Dolan
Mike
Gibbons
Josh
Mandel
Bernie
Moreno
Jane
Timken
Mike
Turner
J. D.
Vance
Other
Undecided
The Trafalgar Group (R)
April 29 – May 1, 2022
1,081 (LV)
± 3.0%
22%
13%
21%
–
6%
–
26%
4%[c]
9%
Emerson College
April 28–29, 2022
885 (LV)
± 3.2%
18%
14%
22%
–
7%
–
24%
4%[d]
11%
Fabrizio Lee (R)[A]
April 25–26, 2022
800 (LV)
± 3.5%
12%
12%
19%
–
8%
–
31%
0%
17%
Blueprint Polling (D)
April 21–24, 2022
634 (LV)
± 3.9%
18%
13%
12%
–
7%
–
17%
–
33%
Fox News
April 20–24, 2022
906 (LV)
± 3.0%
11%
13%
18%
–
6%
–
23%
2%[e]
25%
Fabrizio Lee (R)[A]
April 18–19, 2022
800 (LV)
± 3.5%
9%
13%
18%
–
11%
–
25%
<1%
23%
The Trafalgar Group (R)
April 13–14, 2022
1,078 (LV)
± 3.0%
12%
14%
28%
–
8%
–
23%
3%[f]
13%
Remington Research Group (R)[B]
April 11–12, 2022
884 (LV)
± 3.3%
15%
17%
23%
–
12%
–
10%
3%
20%
Moore Information Group (R)[C]
April 3–4, 2022
2,500 (LV)
± 2.0%
13%
20%
16%
–
15%
–
10%
–
26%
Fabrizio Lee (R)[A]
March 30–31, 2022
800 (LV)
± 3.5%
9%
18%
18%
–
9%
–
18%
–
29%
University of Akron
February 17 – March 15, 2022
– (LV)
–
5%
21%
22%
–
6%
–
10%
4%
34%
Fox News
March 2–6, 2022
918 (LV)
± 3.0%
7%
22%
20%
–
9%
–
11%
3%[g]
24%
Emerson College
February 25–26, 2022
410 (LV)
± 4.8%
6%
22%
15%
–
6%
–
8%
4%[h]
39%
Fabrizio Lee (R)[A]
February 23–24, 2022
800 (LV)
± 3.5%
8%
18%
14%
–
12%
–
14%
–
34%
Cygnal (R)[D]
February 8–10, 2022
609 (LV)
± 4.0%
6%
23%
11%
–
8%
–
9%
–
44%
The Trafalgar Group (R)
February 8–10, 2022
1,085 (LV)
± 3.0%
10%
16%
21%
–
10%
–
14%
3%
25%
co/efficient (R)
February 6–8, 2022
613 (LV)
± 4.0%
7%
20%
18%
–
6%
–
5%
10%[i]
34%
Moreno withdraws from the race
WPA Intelligence (R)[B]
January 30 – February 1, 2022
514 (LV)
± 4.4%
5%
17%
28%
6%
9%
–
13%
–
22%
Cygnal (R)[D]
January 28–30, 2022
929 (LV)
± 3.2%
3%
16%
13%
6%
8%
–
10%
–
45%
Fabrizio Lee (R)[A]
January 18–20, 2022
800 (LV)
± 3.5%
3%
14%
15%
11%
13%
–
9%
1%
34%
KAConsulting LLC (R)[E]
January 11–13, 2022
600 (LV)
± 4.0%
3%
10%
20%
10%
18%
–
10%
–
24%
WPA Intelligence (R)[F]
January 5–6, 2022
513 (LV)
± 4.4%
4%
14%
26%
7%
15%
–
10%
8%
16%
Moore Information Group (R)[C]
January 3, 2022
1,000 (LV)
± 3.1%
4%
14%
18%
9%
16%
–
8%
–
31%
The Trafalgar Group (R)
December 12–15, 2021
1,053 (LV)
± 3.0%
5%
12%
21%
2%
10%
–
15%
–
34%
Moore Information Group (R)[C]
November 29, 2021
1,000 (LV)
± 3.1%
4%
13%
21%
3%
17%
–
10%
–
32%
Fabrizio Lee (R)[A]
November 21–23, 2021
600 (LV)
± 4.0%
2%
7%
18%
2%
10%
6%
10%
–
45%
Fabrizio Lee (R)[A]
October 17–18, 2021
600 (LV)
± 4.0%
3%
6%
19%
1%
4%
7%
16%
–
43%
Moore Information Group (R)[C]
September 2021
– (LV)
–
6%
12%
22%
3%
11%
–
9%
–
37%
WPA Intelligence (R)[B]
September 20–23, 2021
510 (LV)
± 4.3%
3%
8%
37%
1%
6%
–
13%
6%
26%
Remington Research Group (R)[B]
September 6–7, 2021
980 (LV)
± 3.0%
2%
5%
34%
2%
11%
–
16%
–
30%
Fabrizio Lee (R)[A]
August 17–19, 2021
800 (LV)
± 3.5%
2%
4%
19%
1%
5%
5%
13%
–
51%
WPA Intelligence (R)[F]
July 27–29, 2021
500 (LV)
± 4.4%
3%
3%
40%
1%
8%
–
12%
13%
20%
Fabrizio Lee (R)[A]
July 20–22, 2021
800 (LV)
± 3.5%
1%
2%
21%
2%
7%
7%
12%
–
48%
Fabrizio Lee (R)[A]
June 15–17, 2021
800 (LV)
± 3.5%
2%
2%
22%
1%
8%
6%
4%
–
55%
Remington Research Group (R)[B]
June 1–3, 2021
1,040 (LV)
± 3.0%
2%
5%
35%
2%
16%
–
6%
–
34%
Moore Information Group (R)[C]
May 26, 2021
600 (LV)
± 4.0%
2%
7%
24%
1%
19%
8%
4%
–
35%
Moore Information Group (R)[C]
April 2021
600 (LV)
± 4.0%
–
1%
23%
1%
14%
7%
4%
–
37%
Fabrizio Lee (R)[A]
April 20–22, 2021
800 (LV)
± 3.5%
–
2%
25%
2%
8%
7%
6%
–
51%
Moore Information Group (R)[C]
March 2021
600 (LV)
± 4.0%
–
2%
28%
–
11%
7%
2%
–
37%
Moore Information Group (R)[C]
February 2021
600 (LV)
± 4.0%
–
2%
20%
–
5%
8%
–
–
50%
Results
Democratic primary
Candidates
Nominee
Eliminated in primary
Disqualified
Declined
Endorsements
Polling
Poll source
Date(s)
administered
Sample
size[b]
Margin
of error
Morgan
Harper
Traci
Johnson
Tim
Ryan
Other
Undecided
University of Akron
February 17 – March 15, 2022
– (LV)
–
18%
–
43%
4%
37%
Emerson College
February 25–26, 2022
313 (LV)
± 5.5%
4%
9%
31%
5%[j]
51%
Results
Third-party and independent candidates
Candidates
Declared
Disqualified
General election
Predictions
Endorsements
Polling
Aggregate polls
Source of poll
aggregation
Dates
administered
Dates
updated
J. D.
Vance (R)
Tim
Ryan (D)
Undecided
[k]
Margin
Real Clear Politics
May 22 – August 19, 2022
August 22, 2022
45.7%
42.0%
12.3%
Vance +3.7
FiveThirtyEight
August 24, 2021 – September 7, 2022
September 7, 2022
43.6%
45.5%
10.9%
Ryan +1.9
Average
44.6%
43.8%
11.6%
Vance +0.8
Poll source
Date(s)
administered
Sample
size[b]
Margin
of error
J. D.
Vance (R)
Tim
Ryan (D)
Other
Undecided
Impact Research (D)[I]
August 17–23, 2022
800 (LV)
± 3.5%
47%
50%
–
3%
The Trafalgar Group (R)
August 16–19, 2022
1,087 (LV)
± 2.9%
50%
45%
–
6%
Emerson College
August 15–16, 2022
925 (LV)
± 3.2%
45%
42%
4%
10%
Kurt Jetta (D)[J]
August 1–3, 2022
1,180 (A)
± 2.9%
32%
42%
–
26%
974 (RV)
± 3.1%
33%
44%
–
23%
516 (LV)
± 4.3%
38%
49%
–
12%
Impact Research (D)[I]
July 21–28, 2022
800 (LV)
± 3.5%
45%
48%
–
7%
PEM Management Corporation (R)[K]
July 22–24, 2022
300 (LV)
± 5.7%
38%
44%
3%
15%
Grow Progress (D)[L]
July 5–10, 2022
2,032 (RV)
± 3.0%
41%
46%
–
13%
Kurt Jetta (D)[J]
July 1–3, 2022
1,199 (A)
± 2.8%
36%
41%
–
23%
989 (RV)
± 3.1%
37%
44%
–
20%
528 (LV)
± 4.3%
43%
46%
–
11%
Impact Research (D)[I]
June 27–30, 2022
816 (LV)
± 3.4%
46%
48%
–
6%
Grow Progress (D)[L]
May 30 – June 3, 2022
2,018 (RV)
± 3.0%
41%
44%
–
15%
Suffolk University
May 22–24, 2022
500 (LV)
± 4.4%
42%
39%
2%
17%
Momentive (D)[J]
May 13, 2022
1,174 (A)
± 2.9%
37%
37%
–
25%
989 (RV)
± 3.1%
40%
39%
–
21%
528 (LV)
± 4.3%
48%
43%
–
9%
Grow Progress (D)[L]
April 25–29, 2022
2,014 (RV)
± 2.5%
41%
43%
–
15%
Redfield & Wilton Strategies
August 20–24, 2021
1,200 (RV)
± 2.8%
33%
36%
3%
24%
1,160 (LV)
± 2.9%
36%
37%
3%
23%
Public Policy Polling (D)[H]
March 18–19, 2021
700 (V)
± 3.7%
39%
37%
–
24%
Results
Notes
Partisan clients
References
External links
Official campaign websites