Summary
Current Position: US Representative for OH 4th District since 2007
Affiliation: Republican
Former Positions: State Senator from 2001 – 2006; State Delegate from 1995 – 2000
Other Positions:  
Ranking Member, Committee on the Judiciary
Featured Quote: 
Discussing the January 6th Select Committee on Fox News with @seanhannity and @RepStefanik
at 9:00 p.m. ET / 8:00 p.m. CT. Tune in!
Featured Video: 
Rep. Jim Jordan says Trump is not to blame for Capitol insurrection
News
MADISON, Wis. (WMTV) – One of the most conservative members of the U.S. House of Representatives is pointing to the University of Wisconsin – and, specifically, Camp Randall this weekend – as a sign that many Americans are ready to move on from COVID-19 safety protocols.
With video of the Badgers home rattling during 'Jump Around' ping-ponged across social media since Saturday, earning both praise and derision in many comment sections – Rep. Jim Jordan re-tweeted Barstool Sports video, adding the comment "Real America is done with #COVID-19. God bless!'
In less than two hours, the Republican congressmember's tweet was retweeted nearly 1,000 times and picked up over 5,000 likes.
Twitter
About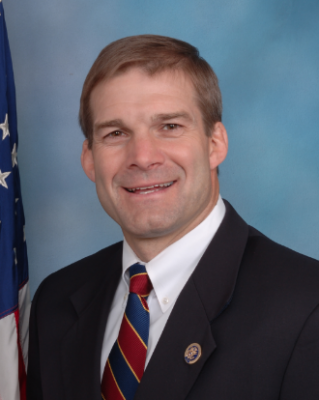 Source: Government page
Jim Jordan was raised in Champaign County, Ohio, graduating from Graham High School in 1982, where he was a four-time state champion in wrestling with a career record of 150-1. He went on to earn a Bachelor's Degree in Economics from the University of Wisconsin, where he was a two-time NCAA wrestling champion. He later earned a Master's degree in Education from the Ohio State University and a Law Degree from Capital University in Columbus, Ohio.
Jordan is a fiscal conservative who believes that families and taxpayers, rather than government, know best how to make decisions with their money. Throughout his career, Jim Jordan has led the fight against tax hikes, including those proposed by his own political party. He believes that cutting taxes and letting families keep more of what they earn helps build strong communities and a vibrant economy.
In Congress, Jordan has also emerged as a prominent defender of the taxpayer's pocketbook through his work on spending issues. In 2009, he introduced the only balanced budget alternative to President Obama's budget. In the 112th Congress, Jordan served as Chairman of the House Republican Study Committee, the largest caucus of conservatives, advancing conservative ideas and solutions on Capitol Hill. In the 114th Congress, Jordan helped found the House Freedom Caucus, and served as its first Chairman.
Jordan has been an advocate of the taxpayer, looking for waste, fraud and abuse in the federal government. He serves as the Ranking Member on the House Judiciary Committee and on the House Oversight Committee.
As one of the most conservative members of Congress, his efforts have earned him recognition from Citizens against Government Waste, Family Research Council, Americans for Tax Reform's Friend of the Taxpayer Award and the 2012 Weyrich Award for "National Legislator of the Year."
Voting Record
Caucuses
Freedom Caucus
Congressional Constitution Caucus
Congressional Western Caucus
U.S.-Japan Caucus
Campus Free Speech Caucus
Experience
Work Experience
Member/ Representative
Ohio House of Representatives
1995 to 2000
Member/ Senator
Ohio State Senate
2001 to 2007
Education
Awards
The American Conservative Union
– 100% Conservative Score on annual ACU Ratings of Congress: 2007, 2008, 2009, 2010, 2011, 2012, 2013, 2014, 2015 (longest running perfect record of any current Member of Congress)
– 2007 Best & Brightest Award
– 2008 Defender of Liberty Award
American Family Business Institute
– 2012 Champion of American Family Businesses Award
Americans for Tax Reform
– 2007 Hero of the Taxpayer Award
Associated Builders and Contractors, Inc.
– Champion of the Merit Shop: 110th & 111th Congress
Christian Coalition of Ohio
– 2004 Defender of Christian Values Award
Citizens for Community Values
– 2011 Ronald Reagan National Leadership Award
The Club For Growth
– Defender of Economic Freedom Award: 2008-2015 (Lifetime Rating of 98%)
Coalitions for America
– 2012 National Legislator of the Year
– Weyrich Award Dinner Keynote Speaker
The Coalition for Medicare Choices
– The Medicare Choices Leadership Award
Competitive Enterprise Institute & WorkplaceChoice.org
– 100% Pro-Worker voting score on the Workplace Choice Congressional Labor Scorecard: 2013, 2014
Family Research Council Action
– True Blue Award, 2007, 2008, 2009, 2010, 2011, 2013, 2014
Farm Bureau
– Friend of Farm Bureau: 112th, 113th Congress
Freedom Works
– Freedom Fighter Award: 2012, 2013
Healthcare Leadership Council
– 2012 Champion of Healthcare Innovation Award
International Foodservice Distributors Association
– Thomas Jefferson Award: 2008, 2010, 2012, 2014
Jewish Vocational Service and Community Workshop
– Outstanding Service Award
National Association of Mutual Insurance Companies
– Benjamin Franklin Public Policy Award: 111th Congress
National Clergy Office
– 2008 Ten Commandments Project
National Federation of Independent Business
– Guardian of Small Business: 2005, 110th, 111th, 112th, 113th Congress
National Taxpayers Union
– Taxpayers' Friend "A" Rating: 2007, 2008, 2009, 2010, 2011, 2012, 2013
National Tax Limitation Committee
– Tax Fighter Award: 110th, 111th, 112th
National Write Your Congressman
– 2008 Constituent Communication Award
Ohio Right to Life Society
– 1998 Defender of Life Award
Ohio State Senate
– 2006 Resolution for Outstanding Service
United Conservatives of Ohio
– Watch Dog of the Treasury: 1996, 2000, 2004, 2006
– 2004 Outstanding Legislator Award
– 1996 Outstanding Freshman Legislator Award
– 1998 Pro Life Award
U.S. Chamber of Commerce
– Spirit of Enterprise Award: 2007, 2008, 2009, 2010, 2011, 2012, 2013
U.S. English
– 'A' In English Award: 110th Congress & 111th Congress
60 Plus Association
– Guardian of Seniors' Rights Award
TheTeaParty.net
– Paul Revere Patriot Award
Personal
Birth Year: 1964
Place of Birth: Troy, OH
Gender: Male
Race(s): Caucasian
Religion: Christian
Spouse: Polly Jordan
Children: Jessie Jordan, Isaac Jordan, Benjamin Jordan, Rachel Jordan
Contact
Email:
Offices
Washington D.C. Office
2056 Rayburn House Office Building
Washington, DC 20515
Phone: (202) 225-2676
Fax: (202) 226-0577
Lima Office
3121 West Elm Plaza
Lima, OH 45805
Phone: (419) 999-6455
Fax: (419) 999-4238
Norwalk Office
13 B East Main Street
Norwalk, OH 44857
Phone: (419) 663-1426
Fax: (419) 668-3015
Bucyrus Office
500 South Sandusky Ave
Bucyrus, OH 44820
Phone: (419) 663-1426
Web
Government Page, Campaign Site, Twitter, YouTube, Facebook, Flickr, Soundcloud, Wikipedia
Politics
Source: none
Campaign Finance
Open Secrets – We Follow the Money
Voting Record
VoteSmart – Key Votes & Ratings
Search
Wikipedia Entry
James Daniel Jordan (born February 17, 1964) is an American politician serving as the U.S. representative for Ohio's 4th congressional district since 2007. His district stretches from Lake Erie to just below Urbana in north-central and western Ohio and includes Lima, Marion, Tiffin, Norwalk, and Elyria. A member of the Republican Party, Jordan is a former collegiate wrestler and college wrestling coach.
Jordan is a founding member of the conservative House Freedom Caucus, serving as its first chair from 2015 to 2017, and as its vice chair since 2017. He was the ranking member of the House Oversight Committee from 2019 to 2020. He vacated that position to become the ranking member of the House Judiciary Committee.
Jordan is a close ally of former president Donald Trump. During Trump's presidency, Jordan sought to discredit investigations into Russian interference in the 2016 election and staged a sit-in to prevent a Trump impeachment inquiry hearing over the Trump-Ukraine scandal. After Joe Biden won the 2020 presidential election and Trump refused to concede while making false claims of fraud, Jordan supported lawsuits to invalidate the election results and voted not to certify the Electoral College results. He has refused to cooperate with the United States House Select Committee on the January 6 Attack, which subpoenaed him on May 12, 2022.[1][2]
Early life and education
Jordan was born and raised in Champaign County, Ohio, the son of Shirley and John Jordan.[3] He attended and wrestled for Graham High School, graduating in 1982.[4] He won state championships all four years he was in high school and compiled a 156–1 win–loss record.[5] He then enrolled at the University of Wisconsin–Madison, where he became a two-time NCAA Division I wrestling champion.[6] Jordan won the 1985 and 1986 NCAA championship matches in the 134-pound (61 kg) weight class.[7][8] He graduated with a bachelor's degree in economics in 1986. He lost the 126–137-pound (57–62 kg) featherweight semifinal match at the 1988 US Olympic wrestling trials and failed to make the Olympic team.
Jordan earned a master's degree in education from Ohio State University and a Juris Doctor from the Capital University Law School.[9] In a 2018 interview, Jordan said he never took the bar examination.[10]
Early career
Ohio State University abuse scandal
Jordan was an assistant wrestling coach with Ohio State University's wrestling program from 1987 to 1995.[11] Ohio State University began an independent investigation in April 2018[12] into allegations of sexual misconduct against former wrestling team physician Richard Strauss; Strauss was the team physician during Jordan's tenure as assistant coach.[13][14] Strauss died by suicide in 2005.[15]
In June 2018, at least eight former wrestlers said that Jordan had been aware of, but did not respond to, allegations of sexual misconduct by Strauss.[16][17] Jordan's locker was next to Strauss's, and Jordan spent so much time in the locker room that he created and awarded a "King of the Sauna" certificate to the member of the team who spent the most time in the sauna "talking smack".[18]
In July 2018, Jordan's congressional spokesman Ian Fury released a statement in which Ohio State wrestling coach Russ Hellickson reportedly said: "At no time while Jim Jordan was a coach with me at Ohio State did either of us ignore abuse of our wrestlers. This is not the kind of man Jim is, and it is not the kind of coach that I was."[19]
Former wrestling team members David Range,[17] Mike DiSabato and Dunyasha Yetts asserted that Jordan knew of Strauss's misconduct. Yetts said, "For God's sake, Strauss's locker was right next to Jordan's and Jordan even said he'd kill him if he tried anything with him".[20] No wrestlers have accused Jordan of sexual misconduct, but four former wrestlers named him as a defendant in a lawsuit against the university.[21][22][23] Several former wrestlers, including ex-UFC fighter Mark Coleman, allege that Hellickson contacted two witnesses in an attempt to pressure them to support Jordan the day after they accused Jordan of turning a blind eye to the abuse.[24][25]
Jordan has refused to cooperate with investigations into Strauss.[26] He described his accusers as "pawns in a political plot"[27] and said he did not even hear any locker room talk about Strauss or sexual abuse at OSU.[28] In response to Jordan's denials, DiSabato said, "I considered Jim Jordan a friend. But at the end of the day, he is absolutely lying if he says he doesn't know what was going on."[26][29]
On July 13, 2018, the editorial board of the Cleveland Plain Dealer wrote, "Jim Jordan must acknowledge what he knew".[30]
In May 2019, DiSabato filed a Title IX lawsuit against OSU. In one count of the court papers, DiSabato claimed that a second cousin of Jordan's attempted to "intimidate and retaliate" against DiSabato.[31][32] In 2019, DiSabato shared text messages with NBC News, corroborated by another former wrestler,[33] indicating that Jordan, Russ Hellickson, and high school wrestling coach Jeff Jordan (Jim Jordan's younger brother)[34] conspired to engage in witness tampering and intimidation when they called Coleman and Coleman's parents to pressure Coleman to recant his accusation that Jordan was aware of the abuse.[33]
In November 2019, a retired wrestling referee filed a lawsuit alleging that he had warned Jordan and Hellickson about Strauss's misconduct but they had dismissed his warning.[35][36][37] Jordan said that the referee was "another person making a false statement".[38]
In February 2020, Adam DiSabato, the brother of Mike DiSabato, testified before the Ohio House Civil Justice Committee that Jordan called him "crying, groveling… begging me to go against my brother" and described Jordan as a "coward".[29][39][40]
Ohio General Assembly
Jordan was elected to the Ohio House of Representatives in November 1994 and represented the 85th Ohio House district for three terms.
In 2000, Jordan was elected to the Ohio Senate over independent candidate Jack Kaffenberger with 88% of the vote. In 2004, Jordan defeated Kaffenberger again, with 79% of the vote.
U.S. House of Representatives
Elections
Jordan represents Ohio's 4th congressional district. He won the Republican primary for the 4th district in 2006 after 26-year incumbent Mike Oxley announced his retirement. Jordan defeated Democratic nominee Rick Siferd in the general election with 60% of the vote.[41]
Jordan was reelected in 2008, defeating Democratic nominee Mike Carroll with 65% of the vote.[42] In 2010, he was again reelected, defeating Democrat Doug Litt and Libertarian Donald Kissick with 71% of the vote.[41] Jordan was reelected in 2012, 2014, 2016, 2018, and 2020.[43]
Tenure
Jordan chaired the Republican Study Committee[44] during the 112th Congress[45] while turning down a position on the Appropriations Committee.[46] During the U.S. government shutdown of 2013, he was considered the committee's most powerful member.[47] That group was the primary proponent and executor of the Republican congressional strategy to bring about a government shutdown in order to force changes in the Patient Protection and Affordable Care Act, also known as Obamacare.[47]
Jordan received a vote for Speaker of the United States House of Representatives in the 113th Congress from a fellow right-wing conservative, Tea Party Caucus chairman Tim Huelskamp of Kansas. Jordan received two votes for Speaker during the 114th Congress.[48] On July 26, 2018, Jordan announced his bid for Speaker after Paul Ryan retired,[49] but he lost to Kevin McCarthy.[50] His campaign ended when Democrats took the majority in the U.S. House of Representatives.[49] Subsequently, Jordan campaigned for House minority leader. Former Ohio state representative Capri Cafar said that Jordan "is someone who has built a reputation as an attack dog, someone who is media savvy, someone who is a stalwart supporter of the president and who has the skill necessary to take the lead for the GOP".[51] He lost his bid to McCarthy in a 159–43 vote.[52]
Jordan was the ranking member of the House Oversight Committee from 2019 to 2020. In February 2020, he left his position on the Committee on Oversight and Government Reform and replaced Doug Collins on the United States House Committee on the Judiciary. Collins was required to step down from the committee post after launching his bid in the 2020–21 United States Senate special election in Georgia. Jordan was replaced on the House Committee on Oversight and Government Reform by Mark Meadows.[53][54]
Jordan's district has been redrawn over time to minimize urban area and increase rural area; it is now gerrymandered to avoid containing Toledo, Columbus or Cleveland (or their respective suburbs); it stretches from Lake Erie nearly to Dayton. A three-judge federal panel unanimously ruled in May 2019 that Ohio's congressional district map is unconstitutional due to partisan gerrymandering and ordered Ohio to create a new map in time for the 2020 election. But after the U.S. Supreme Court ruled in Rucho v. Common Cause that courts could not review allegations of gerrymandering, the district boundaries will not change until congressional district maps are redrawn in 2022.[55]
In December 2021, the House Select Committee on the January 6 Attack released the partial contents of a text message sent by an unnamed lawmaker to White House chief of staff Mark Meadows before the scheduled final certification of presidential electors on January 6, 2021. The excerpt read: "On January 6, 2021, Vice President Mike Pence, as President of the Senate, should call out all the electoral votes that he believes are unconstitutional as no electoral votes at all." The day after the release, Jordan acknowledged sending the message, but said he had merely forwarded it after receiving it from attorney Joseph Schmitz.[56] Both Jordan and Meadows asserted that the committee had altered the excerpt by misplacing a period.[57]
Freedom Caucus
During the 114th Congress, Jordan and eight other members of Congress founded the House Freedom Caucus, a bloc of conservatives working "to advance an agenda of limited constitutional government" in Congress.[58] He served as the group's first chair.[59] The caucus was ultimately credited with pushing Speaker John Boehner into retirement.[51]
Legislation
On May 2, 2014, Jordan introduced House Resolution 565, "Calling on Attorney General Eric H. Holder, Jr., to appoint a special counsel to investigate the targeting of conservative nonprofit groups by the Internal Revenue Service". It passed on May 7, 2014.[60]
In March 2017, Jordan criticized the newly introduced American Health Care Act, the Republican replacement bill for the Patient Protection and Affordable Care Act, calling it an unacceptable form of "Obamacare Lite".[61] On May 4, 2017, he voted to pass a revised version of the legislation.[62][63]
On June 13, 2018, Jordan and Representative Mark Meadows filed a resolution to compel the Department of Justice to provide certain documents to Congress relating to the ongoing congressional investigations of Russian interference in the 2016 election. The resolution asserted that the DOJ was stonewalling congressional oversight and sought to give the DOJ seven days from its enactment to turn over documents related to both Deputy Attorney General Rod Rosenstein's appointment of Special Counsel Robert Mueller as well as various decisions made by the FBI during the 2016 presidential election. Jordan issued a press release that stated:
This resolution gives the DOJ seven days to turn over the documents that they owe Congress. Rod Rosenstein threatened congressional staff. When the bully picks on your little brother, you have to respond. It's time for House Leadership to stand up and pass this resolution.[64]
On July 25, 2018, Jordan and Meadows introduced articles of impeachment against Rosenstein, whom they accused of "intentionally withholding embarrassing documents and information, knowingly hiding material investigative information from Congress, various abuses of the FISA process, and failure to comply with congressional subpoenas". Jordan stated that impeachment was necessary because:
The DOJ is keeping information from Congress. Enough is enough. It's time to hold Mr. Rosenstein accountable for blocking Congress's constitutional oversight role.[65][66]
Jordan and Representative Warren Davidson were the only members of Ohio's congressional delegation and two of 60 members of Congress to vote in October 2019 against a bipartisan resolution that passed the House 354–60 condemning President Donald Trump's unilateral withdrawal of U.S. military forces from Syria.[67][68][69]
Committee assignments
Caucus memberships
Political positions
According to The Dayton Daily News, Jordan "is known for being one of Congress' most conservative members".[76]
Jordan has earned a perfect score from the American Conservative Union.[77] He has voted consistently for anti-abortion legislation and was endorsed by Ohio Right to Life in 2012.[78] During the 112th Congress, he was one of 40 "staunch" members of the Republican Study Committee who frequently voted against Republican party leadership and vocally expressed displeasure with House bills.[79]
Jordan was a leading critic of President Barack Obama's Home Affordable Modification Program (HAMP) program, advocating for its shutdown.[80]
Jordan has supported the continued production and upgrades of M1 Abrams tanks in his district.[81]
Jordan, along with all other Senate and House Republicans, voted against the American Rescue Plan Act of 2021.[82]
Donald Trump
Jordan has been a stalwart supporter[83] and close ally of Trump.[84] Asked by Anderson Cooper in April 2018 whether he had ever heard Trump tell a lie, Jordan said "I have not" and "nothing comes to mind".[85] He also said, "I don't know that [Trump has ever] said something wrong that he needs to apologize for."[86]
In December 2017, Jordan sought to discredit the FBI and Special Counsel Robert Mueller's investigation into Russian interference in the 2016 election.[87] Jordan questioned Mueller's impartiality, and called on Deputy Attorney General Rod J. Rosenstein to use his authority to disband the Mueller investigation or create a second special counsel to simultaneously investigate Mueller himself.[87] Rosenstein rejected the request, saying that he could not appoint another special counsel as there was no credible allegation of a potential crime.[87] The New York Times reported that Republicans were increasingly criticizing Mueller's investigation after it "delivered a series of indictments to high-profile associates of the president and evidence that at least two of them are cooperating with the inquiry".[87] In July 2018, Jordan led efforts to impeach Rosenstein as a way to shut down the special counsel's investigation.[88] During a hearing on July 12, 2018, Jordan repeatedly interrupted FBI agent Peter Strzok while Strzok tried to explain that he couldn't answer specific questions to preserve the confidentiality of an ongoing investigation. Jordan's behavior caused committee Democrats to protest his tactics and to allow Strzok to respond. They also objected to Jordan's exceeding his allowed time for questioning. House Judiciary Committee chairman Bob Goodlatte admonished Jordan for his repeated interruptions of the witness.[89]
In July 2018, Jordan and Mark Meadows called on the Department of Justice to "review allegations that Deputy Attorney General Rod Rosenstein threatened to subpoena phone records and documents from a House Intelligence Committee staffer". In their written request, the two wrote that in his use of investigative powers, Rosenstein had retaliated "against rank-and-file (congressional) staff members", thereby abusing his authority.[90] Talking to John Catsimatidis on WNYM, Jordan said he would force a vote on Rosenstein's impeachment if the DOJ did not deliver documents Congress requested.[91]
In March 2019, House Judiciary chair Jerrold Nadler criticized Jordan for allegedly using anti-Semitic messaging by spelling 2020 presidential candidate Tom Steyer's name with a "$" in place of an "S" on Twitter[92] while urging Nadler to resist calls for Trump's impeachment.[93][94]
During Mueller's testimony to two congressional committees on July 24, 2019, Jordan asked Mueller why he never charged Joseph Mifsud with lying to the FBI while George Papadopoulos was charged for lying about Mifsud. Jordan said: "Mifsud is the guy who told Papadopoulos [about Russian dirt]. He was the guy who started it all. Yet when the FBI interviews him, he lies three times; you don't charge him." Mueller responded, "Well, I can't get into it and it's obvious, I think, that we can't get into charging decisions."[95]
On October 23, 2019, Jordan and two dozen other Republicans staged a protest that delayed a Trump impeachment inquiry hearing. The coordinated action disrupted the United States House Permanent Select Committee on Intelligence where Republican and Democratic congressional members planned to take testimony from Deputy Assistant Secretary of Defense Laura Cooper.[96] The group staged a sit-in outside the Sensitive Compartmented Information Facility (SCIF) hearing room.[97][98] Some of the Republicans who participated already had access to the hearings since the members of the House Oversight, Intelligence and Foreign Affairs committees were welcome to attend and ask questions.[99]
Describing the sit-in, Jordan said, "The members have just had it, and they want to be able to see and represent their constituents and find out what's going on."[98] The next day, he said on Fox News, "Adam Schiff is doing this unfair, partisan process in secret and our members finally said, 'Enough'…We're so frustrated. They reached a boiling point and these guys marched in and said 'we want to know what's going on.'"[100]
House Homeland Security Committee Chairman Bennie Thompson wrote to the House sergeant-at-arms about Jordan, Representative Bradley Byrne, and others, requesting that he take action regarding their "unprecedented breach of security". Senator Lindsey Graham admonished his House colleagues for their tactic, calling them "nuts" for having made a "run on the SCIF".[100][98][101][102]
As the ranking member of the House Judiciary Committee, during a July 2020 hearing with attorney general Bill Barr, Jordan presented a video montage that took statements by CNN reporters out of context to create a false impression they were characterizing violent protests as peaceful.[103]
In December 2020, Jordan was one of 126 Republican members of the House of Representatives to sign an amicus brief in support of Texas v. Pennsylvania, a lawsuit filed at the United States Supreme Court contesting the results of the 2020 presidential election, in which Joe Biden defeated[104] Trump. The Supreme Court declined to hear the case on the basis that Texas lacked standing under Article III of the Constitution to challenge the results of an election held by another state.[105][106][107]
House Speaker Nancy Pelosi issued a statement that called signing the amicus brief an act of "election subversion". She reprimanded Jordan and the other House members who supported the lawsuit: "The 126 Republican Members that signed onto this lawsuit brought dishonor to the House. Instead of upholding their oath to support and defend the Constitution, they chose to subvert the Constitution and undermine public trust in our sacred democratic institutions."[108][109] New Jersey Representative Bill Pascrell, citing section three of the 14th Amendment, called for Pelosi to not seat Jordan and the other Republicans who signed the brief supporting the suit, arguing that "the text of the 14th Amendment expressly forbids Members of Congress from engaging in rebellion against the United States. Trying to overturn a democratic election and install a dictator seems like a pretty clear example of that."[110]
On January 6-7, 2021, Jordan cast a vote to prevent the certification of the Electoral College in at least one state.[111] He was one of the 139 representatives who voted to overturn the results of the 2020 presidential election in Congress on January 7, 2021, the day after the storming of the Capitol.[112] At a later virtual committee meeting, Jordan said the storming of the United States Capitol "was as wrong as wrong can be".[113]
On January 11, 2021, Trump awarded Jordan the Presidential Medal of Freedom[114][115][116] in a closed-door ceremony.[117]
Cassidy Hutchinson, a former aide to Trump chief of staff Mark Meadows, told the House Select Committee on the January 6 Attack that Jordan had talked to the White House about presidential pardons for Republican members of Congress who participated in attempts to overturn the 2020 United States presidential election.[118]
Health care
Jordan opposes the Affordable Care Act, calling for it to be repealed.[119] He opposes vaccine requirements, describing them as "un-American".[120]
Environment
In July 2008, Jordan was the first member of Congress to sign the "No Climate Tax" pledge drafted by the conservative political advocacy group Americans for Prosperity.[121]
In Congress, Jordan voted to open the Outer Continental Shelf to oil drilling, prevent the EPA from regulating greenhouse gases, and bar greenhouse gases from Clean Air Act rules. He voted against enforcing limits on carbon dioxide global warming pollution, tax credits for renewable electricity, tax incentives for renewable energy and energy conservation, and curtailing subsidies for oil and gas company exploration.[122]
Abortion
Jordan opposes abortion,[123] and supports banning federal funding to Planned Parenthood.[124]
On July 12, 2022, Jordan tweeted a reply to the Washington Examiner stating the report of a 10-year-old Ohio girl traveling to Indiana to obtain a legal abortion was a lie. He deleted the tweet on July 13 after the perpetrator was arrested by police and confessed to raping the young girl twice, and police confirmed that the report of her obtaining an abortion in Indiana was accurate.[125]
Antitrust and tech policy
Jordan, a noted critic of "Big Tech" companies,[126] opposes proposals backed by many Democrats and some Republicans (such as Ken Buck) to break up these companies through antitrust enforcement.[127]
He argues that the Democratic Party is beholden to the interests of Big Tech companies and supports the online censorship of conservatives.[128]
Taxes
While serving in the Ohio Senate, Jordan supported the Tax and Expenditure Limitation Amendment, a state constitutional amendment that would require a vote of the people to raise taxes or increase spending over certain limits.[129]
Foreign policy
Jordan was among 60 Republicans to oppose condemning Trump's action of withdrawing forces from Syria.[130] According to The American Conservative, along with Matt Gaetz and a handful of Republicans, he broke with the party and voted to end Saudi assistance to the war in Yemen.[131]
In June 2021, Jordan was one of 49 House Republicans to vote to repeal the AUMF against Iraq.[132][133]
LGBT rights
In 2015, Jordan cosponsored a resolution to amend the US constitution to ban same-sex marriage.[134] Jordan condemned the Supreme Court ruling in Obergefell v. Hodges, which held that same-sex marriage bans violated the constitution.[135]
Personal life
Jordan and his wife, Polly, live near Urbana in central Champaign County. They were introduced by her brothers, with whom Jordan competed in wrestling.[136] Polly and Jordan started dating when he was 13 and she was 14. They have four children and two grandchildren.[137] Jordan's son-in-law, Jarrod Uthoff, is a professional basketball player.[138]
Political campaigns
U.S. House of Representatives, Ohio 4th District
2008 – defeated Mike Carroll.
2010 – defeated Doug Litt (D) and Donald Kissick (L).
2012 – defeated Jim Slone (D) and Chris Kalla (L).
2014 – defeated Janet Garrett (D).
2016 – defeated Janet Garrett (D).
2018 – defeated Janet Garrett (D).
2020 – defeated Shannon Freshour (D) and Steve Perkins (L).
Electoral history
Election results of Jim Jordan[139]
Year
Office
Election
Party
Votes
%
Opponent
Party
Votes
%
Opponent
Party
Votes
%
1998
Ohio House of Representatives
General
R
23,763
68.36%
Robert Burns
D
10,999
31.64%
2000
Ohio Senate
General
R
99,803
76.94%
Jack Kaffenberger Sr.
I
15,545
11.98%
Debra Mitchell
NL
14,373
11.08%
2004
Ohio Senate
General
R
118,193
79.27%
Jack Kaffenberger Sr.
I
30,902
20.73%
2006
U.S. House of Representatives
General
R
129,958
59.99%
Richard E. Siferd
D
86,678
40.01%
2008
U.S. House of Representatives
General
R
186,154
65.17%
Mike Carroll
D
99,499
34.83%
2010
U.S. House of Representatives
General
R
146,029
71.49%
Doug Litt
D
50,533
24.74%
Donald Kissick
L
7,708
3.77%
2012
U.S. House of Representatives
General
R
182,643
58.35%
Jim Slone
D
114,214
36.49%
Chris Kalla
L
16,141
5.16%
2014
U.S. House of Representatives
General
R
125,907
67.67%
Janet Garrett
D
60,165
32.33%
2016
U.S. House of Representatives
General
R
210,227
67.99%
Janet Garrett
D
98,981
32.01%
2018
U.S. House of Representatives
General
R
164,640
65.41%
Janet Garrett
D
87,061
34.59%
2020
U.S. House of Representatives
General
R
235,875
67.85%
Shannon Freshour
D
101,897
29.31%
Steve Perkins
L
9,854
2.83%
See also
References
External links
Recent Elections
2018 US Representative
| | | |
| --- | --- | --- |
| Jim Jordan (R) | 167,993 | 65.3% |
| Janet Garrett (D) | 89,412 | 34.7% |
| TOTAL | 257,405 | |
Source: Ballotpedia
Finances
Campaign Committee Fundraising, 2019 – 2020: LAST REPORT: 04/08/2020
Raised: $5,658,952
Spent: $3,812,950
Cash on Hand:  $2,579,747
Source: Open Secrets
Committees
Committees
House Committee on Oversight and Reform
House Committee on the Judiciary
Subcommittees
Courts, Intellectual Property, and the Internet
The Constitution, Civil Rights, and Civil Liberties
Voting Record
See: Vote Smart
New Legislation
Source: Congress.gov
Issues
Source: Government page
Committees
Committee on the Judiciary
Ranking MemberCommittee on Oversight and Reform
Member, Subcommittee on Civil Rights

These committee assignments provide an excellent platform from which to pursue both reform and improved public policy in the four areas I consider to be the main pillars of my service in Washington:
Guarding our homeland through a strong national defense
Reducing taxes so that families can decide how they want their own money spent. To do this we must reduce government spending, corruption and waste
Securing our borders, dealing with the problem of illegal immigration and helping those who want to come to America the legal way by working hard, learning the language and becoming Americans
Protecting the constitutional right to life and defending marriage and the family
Legislation
Sponsored and Cosponsored
Issues
Governance
Budget And Fiscal Issues
The federal government spends six million dollars a minute, each minute, every day of the year. This unfettered spending costs each American family over $23,000 a year. Federal government spending is out of control, and it is the responsibility of Congress to fix the problem. If federal spending is not reigned in, we will find it more and more difficult to avoid the looming financial crisis posed by the retirement of the Baby Boomers and the tens of trillions of dollars in unfunded liabilities their future government benefits represent.
That's why during the FY2008 appropriations process, and in my first year in Congress, I stood on the House floor to offer a series of "fiscal discipline amendments" to hold the line on runaway federal spending.
I will continue seeking to instill fiscal sanity in government, so that we will be able to keep our promises to retirees while providing a sound future for our children and grandchildren.
Government Reform
I agree with most Ohioans that our Federal Government spends far too much and is overly large, cumbersome and bureaucratic. Many of the roles currently filled by government agencies would be better left to individuals, private businesses and non-profit organizations. I take my government oversight responsibilities very seriously, and am well-positioned to work on this issue from my seat on the House Oversight and Government Reform Committee. During the 114th Congress I will continue to consider and propose ways to reduce government spending and eliminate redundancy in government agencies.
Economy
Agriculture
Coming from a family that is heavily involved in farming, sound agricultural policy is very important to me. We need policies that open up the playing field, so that our farmers can better compete in the national and international markets. It is unfair that American farmers face high tariffs when exporting their products to other countries while those same countries can import their goods to the United States tariff-free. I will continue working in Congress to enact policies that strengthen Ohio's farming base and keep it strong.
Taxes
I am committed to the idea that the hardworking families of Ohio know best how to spend their own money and that more of it should remain in their own pockets. Low taxes foster a healthier economy across the board—encouraging entrepreneurship, job creation and improving the international competitiveness of our nation's businesses. I will continue to support the extension of the 2001 and 2003 tax cuts and will stand adamantly against the return of the marriage penalty, the halving of the child tax credit or the continuation of the death tax. I also support phasing out the oppressive Alternative Minimum Tax and reforming our tax code to make it more manageable and understandable to Americans.
Education
Education
Educating our children is vital to our nation's continued prosperity and economic strength during this time of increasing competition in business and trade from abroad. Successful education policy almost always starts at the local and state level rather than the federal level, and I support policies that give parents the freedom to guide their children's education.
Environment
Energy & Natural Resources
America is far too dependent on Middle Eastern oil. Having suffered years of record high gas prices, the American people deserve greater freedom from Middle Eastern manipulation of the oil markets. We need to increase domestic oil and gas supply by exploring and utilizing more of the energy resources we have at home. We must also help keep our nation on the cutting edge by exploring alternative sources of energy and better ways to make use of them. At the same time, we must be careful stewards of precious natural resources—taking care to avoid strategies that damage our landscape, environment and pose health risks to our citizens.
Health Care
Health Care
First and foremost, we need to get health care reform done right, not done fast. Passing another thousand-page bill without amendments or debate will do nothing to help the economy, create jobs, or reform health care.
Right now, the thousand-page health care bill will cost taxpayers about a billion dollars per page and will impose new taxes on individuals and businesses. It will force Americans from private healthcare into a government-run system that will put Washington bureaucrats in charge of rationing care. This government takeover would add $239 billion of deficit over ten years, pushing our already unstable finances further toward bankruptcy.
We need health care reform that puts medical decisions in the hands of doctors, families and patients, not government bureaucrats or insurance companies. We need to make our high quality care more affordable, and I believe we can do so through a number of reforms, like offering financial assistance to those who cannot afford coverage, expanding options to include health savings accounts and allowing families and individuals to buy coverage with the same advantage given to businesses.
Immigration
Immigration
I am steadfastly against illegal immigration and amnesty for illegal immigrants. My strategy for dealing with the many problems posted by illegal immigration is threefold: secure the border, robustly enforce our immigration laws and fix the system so that it works for those who want to come to our country legally—by working hard, learning the language and becoming Americans. Our country has always been a nation of immigrants. In large part, this is what has made us great, but illegal immigration is unfair to the many people from around the world who want to come to the United States legally, as well as being a serious threat to our homeland security.
Veterans
Veterans
Though it is important to fully support our troops in the field, it is no less important to support them when they return and in their times of need. These brave men and women have risked everything to serve and defend us, and we owe them our very best. Our veterans deserve excellent benefits and the best medical care that we can give them—particularly when they return home wounded. For this reason, I and my staff are available to help our Ohio veterans from the 4th District when they need assistance in dealing with the Veterans' Administration or Department of Defense.
Pro Life & Family Issues
Throughout my years serving in the Ohio General Assembly and now in the U.S. Congress, I am proud to stand and defend the lives of the unborn. I am committed to the view that life is sacred, that it begins at conception and that the Founding Fathers were correct in placing life first among the list of rights the Constitution was written to defend. This conviction informs all that I do in Congress, including the bills I sponsor and the speeches I give from the House floor. H.R. 618, the Right to Life Act, was the first bill I co-sponsored after taking office in January 2007. Currently, I am working on a bill called the Ultrasound Informed Consent Act, which employs ultrasound technology to save lives by offering women the opportunity to see their babies and encouraging them to pursue adoption and other abortion alternatives.
Additionally, I am committed to defending the sanctity of marriage and the family. Our families are the foundation of our country, and America is strongest when our nation's families are sound. I oppose all attempts to redefine marriage, and I support the right of parents to supervise what their children learn and how they are educated.
Social Security
Social Security was conceived so that FICA revenues from the current workforce would pay benefits for current retirees. This system has worked because the ratio of workers to retirees allowed it to do so. However, the numbers are now trending the other way. For example, in 1950, 16 workers paid into Social Security for every beneficiary. Today, there are only 3.3 workers for every beneficiary, and the ratio is shrinking. Current estimates indicate that Social Security will begin to pay out more than it takes in by 2017. This poses a major challenge to the future of the Social Security system.
I am fully committed to preserving Social Security benefits for current retirees, as well as those who are approaching retirement age. Social Security is a sacred promise to Americans, and Congress can protect it if we act in a fiscally responsible way. Also, in seeking solutions to ensure benefits for future generations, I would oppose risky "quick-fix" financial moves some favor that I believe would further undermine Social Security. Instead, I want to instill greater fiscal accountability for all federal spending while examining practical means of giving younger individuals more control over how the money they contribute to Social Security is spent.