Summary
The Ohio onAir Hub is managed by students supporting Ohioans to become more informed about and engaged in local, state, and federal politics while facilitating more civil and positive discussions with their representatives, candidates, and fellow citizens.
Ohio onAir is one of 50 state governance and elections hubs that the US onAir Network is providing to help reinvigorate US democracy.  This post has short summaries of current state and federal representatives with links to their complete Hub posts.  Students curate post content from government, campaign, social media, and public websites.  Key content on the Ohio Hub is also replicated on the US onAir nations Hub at: us.onair.cc.
Ohio students will be forming onAir chapters in their colleges and universities to help curate Hub content.  As more students participate and more onAir chapters are started, we will expand to include more state and local content as well as increase the number of aircasts – student-led, livestreamed, online discussions with candidates, representatives, and the public.
Find out more about Who Represents Me in Ohio
Learn more about the US onAir Network
2-minute vision video about the US onAir network
About
US onAir Internships
US onAir internships are sponsored by Democracy onAir, a nonpartisan, student-focused, 501c3 nonprofit providing trusted information on governance and elections and an online town square to facilitate more civil, collaborative democracies.  Over the past four years with the help of George Mason University faculty, staff, and alumni, Democracy onAir has been working with student interns to develop the US onAir network of 50 state governance and elections Hubs and national US onAir Hub. 
The fall 2022 US onAir Internship program is designed to help US students and the public become more informed and engaged voters for the November 2022 elections by way of the US onAir national Hub and state Hubs like this Ohio onAir Hub.  Many of our recent interns have continued working with Democracy onAir in management positions.
We encourage student interns to integrate their internship with their intern courses for credit, class projects, capstone projects, and research work.  A five hour per week commitment through Nov. 8 is required for this internship.  After Nov. 8, interns can reduce their time commitment especially the week before final exams.   All work is done online and unpaid.
Next semester our plan is to have some paid fellowships as well as new onAir networks in democracies throughout the world with a focus on Asian democracies such as South Korea, India, and Taiwan. 
Here is a 2 minute video about US onAir internship opportunities.
Fall Intern Opportunities
Ohio onAir Team Leader
The Ohio onAir Hub is looking for a team leader. We prefer team leaders that are active members in their universities student government.
Ohio onAir Managers
The Ohio onAir internship program is for Ohio undergrad or graduate students attending in state or out of state colleges and universities.  Managers will focus on one or more of these areas: Curation, Aircasting, and Chapter outreach  (see this post for more details on these roles).
In September and October, interns will interact with candidates in their state's US Senate, US House, Governor, and other state-wide races doing the following:
Oversee the curation of politician, issue, committee, and other Hub posts 

Oversee the producing and moderating candidate and race aircasts (student produced, livestreamed zoom discussions) and editing

 videos based on these aircasts

Oversee the establishment and coordination onAir chapters at Ohio colleges and universities
After Nov. 8, interns will similarly interact with elected representatives, emphasizing finding common ground on key issues and legislation.
Contact usdemocracy@onair.cc.
Ohio onAir Chapters
US onAir will assist Georgia students to establish onAir Chapters in their colleges and universities.  The Ohio onAir chapters will be open to all Ohio undergrad and graduate students as well as faculty, staff, and alumni.
Chapter members curate posts on politicians, their committees, issues, and legislation. They moderate online discussions, and help produce aircasts. To learn more about US onAir chapters, go to this post.
To set up your university chapter, contact usdemocracy@onair.cc
Public Engagement
To participate in Georgia onAir and the US onAir Hub discussions and events, all that is required  is your first and last name, and a ".edu" email address.
Each state Hub will have its own membership requirements. For example, most state Hubs, once they have a student Hub management team, will start off requiring a .edu email address. Once a Hub's onAir Council decides it's ready for the public, it will then be open to any resident of their state.
Your real name and any other profile information will NOT be displayed unless you choose to do so. Your personal information is NOT shared with any other website or organization.
Hub membership will enable you to:
Ask questions, make suggestions, and give endorsements to your representatives and other politicians;
Interact directly with Post Authors and Curators giving them feedback, content suggestions, and asking questions,
Participate in aircast forums, research studies, and surveys,
Be able to ask questions during onAir livestreaming broadcasts via chat
Supporting Ohio onAir
There are many ways other than interning with US onAir that students and US citizens can engage with and support the US  onAir network and the  50 state governance and election Hubs.
Donate to Democracy onAir
Sponsor a post, category, or entire Hub
Purchase an Advocate membership and curate your own posts
For more information how you can support Ohio onAir, go to this post.
State Representatives
Ohio is located in the Midwestern region of the USA with Columbus as its capital.  Mike Dewine (R) is Governor.
The Ohio legislature has 33 Senate members and 99 House members.
Office
Name
Party
Assumed office
Next election
Term limited
Maximum term length
Governor

Mike DeWine

Republican

January 14, 2019

2022
No
Two consecutive terms
Lieutenant Governor*

Jon Husted

Republican

January 14, 2019

2022
No
Two consecutive terms
Secretary of State

Frank LaRose

Republican

January 14, 2019

2022
No
Two consecutive terms
Attorney General

Dave Yost

Republican

January 14, 2019

2022
No
Two consecutive terms
Treasurer

Robert Sprague

Republican

January 14, 2019

2022
No
Two consecutive terms
Auditor

Keith Faber

Republican

January 14, 2019

2022
No
Two consecutive terms
Governor Mike DeWine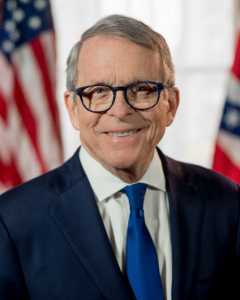 Current Position: Governor since 2019
Affiliation: Republican
Candidate: 2022 Governor
Former Position(s): Attorney General from 2011 – 2019; US Senator from 1995 – 2007; US Representative from 1983 – 1991
Featured Quote: 
Fran and I were stunned and very saddened to learn of the death of our friend and my former colleague, U.S. Senator Mike Enzi of Wyoming. I was honored to serve and work with him. We extend our deepest condolences to Mike's family.
For more information, go to this post.
US Representatives
Senator Sherrod Brown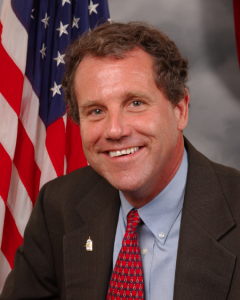 Current Position: US Senator since 2006
Affiliation: Democrat
Former Position(s): US Representative from 1993 – 2007; State Delegate from 1975 – 1982
Other Positions:  
Chair, Committee on Banking, Housing, and Urban Affairs
Featured Quote: 
When you get your Child Tax Credit payment, just remember: Every single Republican in Congress voted against it.
For more information, go to this post.
Senator Robert Portman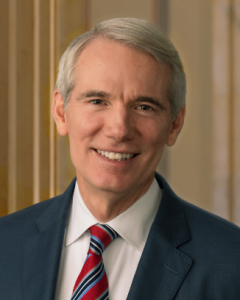 Current Position: US Senator
Affiliation: Republican
Former Position(s): Director of the Office of Management and Budget from 2006 – 2007; US Representative from 1993 – 1996
Other Positions:  
Ranking Member, Committee On Homeland Security And Governmental Affairs
Featured Quote: 
Our @CBP agents are overwhelmed by the largest surge of migrants at our border in 20 yrs & record amounts of illicit deadly drugs, like fentanyl, coming into the US. As I told @SecMayorkas
today, his current policy isn't working, the Biden admin must change course.
For more information, go to this post.
Ohio's 16 US House members are shown in the US House Members "Top Posts" slider.
Steve Chabot
Brad Wenstrup
Joyce Beatty
Jim Jordan
Bob Latta
Bill Johnson
Bill Johnson
Warren Davidson
Marcy Kaptur
Mike Turner
Vacant
Troy Balderson
Tim Ryan
David Joyce
Vacant
Anthony Gonzalez
See Also
Democracy promoting Nonprofits
League of Women Voters of Georgia -Empowering Voters and Defending Democracy
The League of Women Voters of Ohio is a nonpartisan political organization, encourages informed and active participation in government, works to increase understanding of major public policy issues, and influences public policy through education and advocacy.
 Common Cause Georgia – Strengthening Democracy
Common Cause Ohio is committed to protecting and improving voters' rights and access to the ballot in Ohio and improving transparency and accountability in government. Read about our top three priorities.
Free news sources
The Ohio Capital Journal
The Ohio Capital Journal is an independent, nonprofit news organization dedicated to connecting Ohioans to their state government and its impact on their lives. The Capital Journal combines Ohio state government coverage with incisive investigative journalism, reporting on the consequences of policy, political insight and principled commentary.
WOSU Public Media
WOSU Public Media has been serving Central Ohio since 1922. Through on-air content, community events, online content and educational resources, WOSU Public Media is the premier public media station in Central Ohio.
WBGU-PBS
Since 1964, WBGU-PBS, has been an active part of the communities it serves – working with residents to make Northwest and West Central Ohio a better place to live and work. With more than 4,000 members, WBGU-PBS is a true community asset and lifelong learning resource.
Wikipedia Entry
The government of the U.S. state of Ohio consists of the executive,[1] judicial,[2] and legislative[3] branches. Its basic structure is set forth in the Constitution and law of Ohio.
Executive branch
The daily administration of the state's laws are carried out by six elected statewide officials; the chief executive the Governor, and their second in command the Lieutenant Governor, the Secretary Of State, the Attorney General, the State Treasurer, the State Auditor, and by the staff and employees of the executive branch agencies. .
Statewide Elected Executive Officials
All are elected statewide for four-year terms, all on a partisan ballot, with the Governor and Lieutenant Governor elected on a single ticket.
Departments
The state government is primarily organized into several cabinet or administrative departments:[4][5]
Notices and proposed rules are published in the Register of Ohio,[6] which are codified in the Ohio Administrative Code (OAC).[7][8]
Legislative branch
The legislative branch, the Ohio General Assembly, is made up of two houses: the Senate and the House of Representatives. The House of Representatives is composed of 99 members elected from single-member districts of equal population. Each of the 33 senate districts is formed by combining three house districts. Senators serve four-year staggered terms and representatives serve two-year terms. The General Assembly, with the approval of the Governor, draws the U.S. congressional district lines for Ohio's 16 seats in the United States House of Representatives. The Ohio Apportionment Board draws state legislative district lines in Ohio.
In order to be enacted into law, a bill must be adopted by both houses of the General Assembly and signed by the Governor. If the Governor vetoes a bill, the General Assembly can override the veto with a three-fifths supermajority of both houses. A bill will also become a law if the Governor fails to sign or veto it within 10 days of its being presented. The session laws are published in the official Laws of Ohio.[9] These in turn have been codified in the Ohio Revised Code.[10]
Judicial branch
The judicial branch is headed by the Ohio Supreme Court, which has one chief justice and six associate justices, each elected to staggered six-year terms.
There are several other levels of elected judiciary in the Ohio court system:
Judges in Ohio are generally elected, except for the Court of Claims, for which judges sit by assignment of the chief justice. When there are temporary vacancies in elected judgeships, those vacancies are also filled by assignment by the chief justice.
Local government
There are also several levels of local government in Ohio: counties, municipalities (cities and villages), townships, special districts and school districts.
Ohio is divided into 88 counties.[11] Ohio law defines a structure for county government, although they may adopt charters for home rule.[12][13] Summit County[12] and Cuyahoga County[14] have chosen an alternate form of government. The other counties have a government with a three-member board of county commissioners,[15] a sheriff,[16] coroner,[17] auditor,[18] treasurer,[19] clerk of the court of common pleas[20] prosecutor,[21] engineer,[22] and recorder.[23]
There are two kinds of incorporated municipalities, 251 cities and 681 villages.[12][24][25] If a municipality has five thousand or more residents as of the last United States Census it is a city, otherwise it is a village.[12][26] Municipalities have full home rule powers, may adopt a charter, ordinances and resolutions for self-government.[27] Each municipality chooses its own form of government, but most have elected mayors and city councils or city commissions. City governments provide much more extensive services than county governments, such as police forces and paid (as opposed to volunteer) fire departments.
The entire area of the state is encompassed by townships.[12] When the boundaries of a township are coterminous with the boundaries of a city or village, the township ceases to exist as a separate government (called a paper township).[12] Townships are governed by a three-member board of township trustees.[12] Townships may have limited home rule powers.[28]
There are more than 600 city, local, and exempted village school districts providing K-12 education in Ohio, as well as about four dozen joint vocation school districts which are separate from the K-12 districts. Each city school district, local school district, or exempted village school district is governed by an elected board of education.[12] A school district previously under state supervision (municipal school district) may be governed by a board whose members either are elected or appointed by the mayor of the municipality containing the greatest portion of the district's area.[12]
See also
References
External links